As we delve into the history of Old Town, its legacy today as a working farm cannot be understood without knowing its sister Farm at Sinking Creek. Sinking Creek is a place – literally the creek that flows gently through our farm in Virginia – periodically disappearing from the surface to traverse endless limestone caves. It is also a state of mind – a movement.
Started by Tracy Frist, it has grown into a way to share the knowledge and the centeredness that unfolds from the land, the animals, the water, the trees and the nature to which we are stewards. Located ten miles outside of New Castle in southwestern Virginia, the Farm at Sinking Creek captures the balance of nature in its cycle of birth to death, both rough in its winters and tender in its springs. Through the Farm, you will know the past legacy of an antebellum home where big-hearted spirits are still felt, past and present. And you will delight in a legacy of good people eager to share passions of horse breeding, organic grass-fed beef operations, goats used to shape the pastures and productive chickens.
Most especially you will know a herd of people who are eager to share their experiences with you while staying on the property in a unique "Farm Stay" experience.
---
"When Tracy Frist bought Bellevue, a 19th-century home in rural Craig County, it could have remained a private hideaway.
Instead, she and her husband, Bill Frist, made it a mission to share the history of the brick, Federal-era house and its grounds. When a reporter arrived for an interview, the Frists were talking in the kitchen with a half-dozen visitors, including a young couple who came to ask about Bellevue's apple trees.
Interviews are by appointment only, but casual passers-by on scenic Virginia 42 will soon be able to stop and read a historic marker, funded by the Frists. The text was approved in June by the Virginia Department of Historic Resources.
"The site for the Bellevue marker will need to be approved by a VDOT traffic engineer, and then a cost estimate for the installation will have to be approved by VDOT's Integrated Directional Signing Program, before I can order the marker," said Jennifer Loux, highway marker program manager for the Department of Historic Resources."
This is an excerpt from an article written by Randy Walker and was published in the Cardinal News on August 12, 2022. Read the full article here.
---
In October 2022, Dr. Jessamine Finch visited the Farm at Sinking Creek to scout for a rare wildflower, hairy alumroot (Heuchera americana var. hispida). Seeds of this species, and other Virginia native plants, will be used to test a conservation technique aimed at stemming biodiversity loss under climate change called "chaperoned managed relocation."
Almost 40% of the world's plants are threatened with extinction due to a multitude of interacting threats, including agriculture, development, invasive species, and climate change. While our native flora has experienced shifting climates before, the rapidity of current anthropogenic climate change requires plants to adapt or migrate at rates far outpacing past responses. Rare plants with short-distance seed dispersal, like hairy alumroot, are among the most vulnerable. Moving plants beyond their geographic range to track shifting climate envelopes, sometimes known as assisted migration or managed relocation, is one strategy that can help avert biodiversity loss. However, care must be taken not to introduce plants that will become "invasive" and negatively impact the ecosystem. By planting within the context of a botanic garden (the "chaperone") we can realize the benefits of managed relocation while minimizing risks and assessing suitability for future transfer into natural areas. Dr. Finch and collaborators aim to test this modified approach by planting select Virginia plants into botanic gardens in Massachusetts and Maine, the future climates of which are predicted to become more similar to present day Virginia over the next 50-100 years.
Biggest Norway Maple tree (registered state champion) in Virginia is located in Craig County on the Cumberland Gap Road. This recent statewide recognition to Craig County community celebrates the county's commitment to quality of life (working hand-in-hand with Virginia Department of Transportation to preserve), sense of time and place, and honoring nature and values.
Located on corner of routes 42 and 625, in front yard of historic home Bellevue, listed on National Register of Historic Places.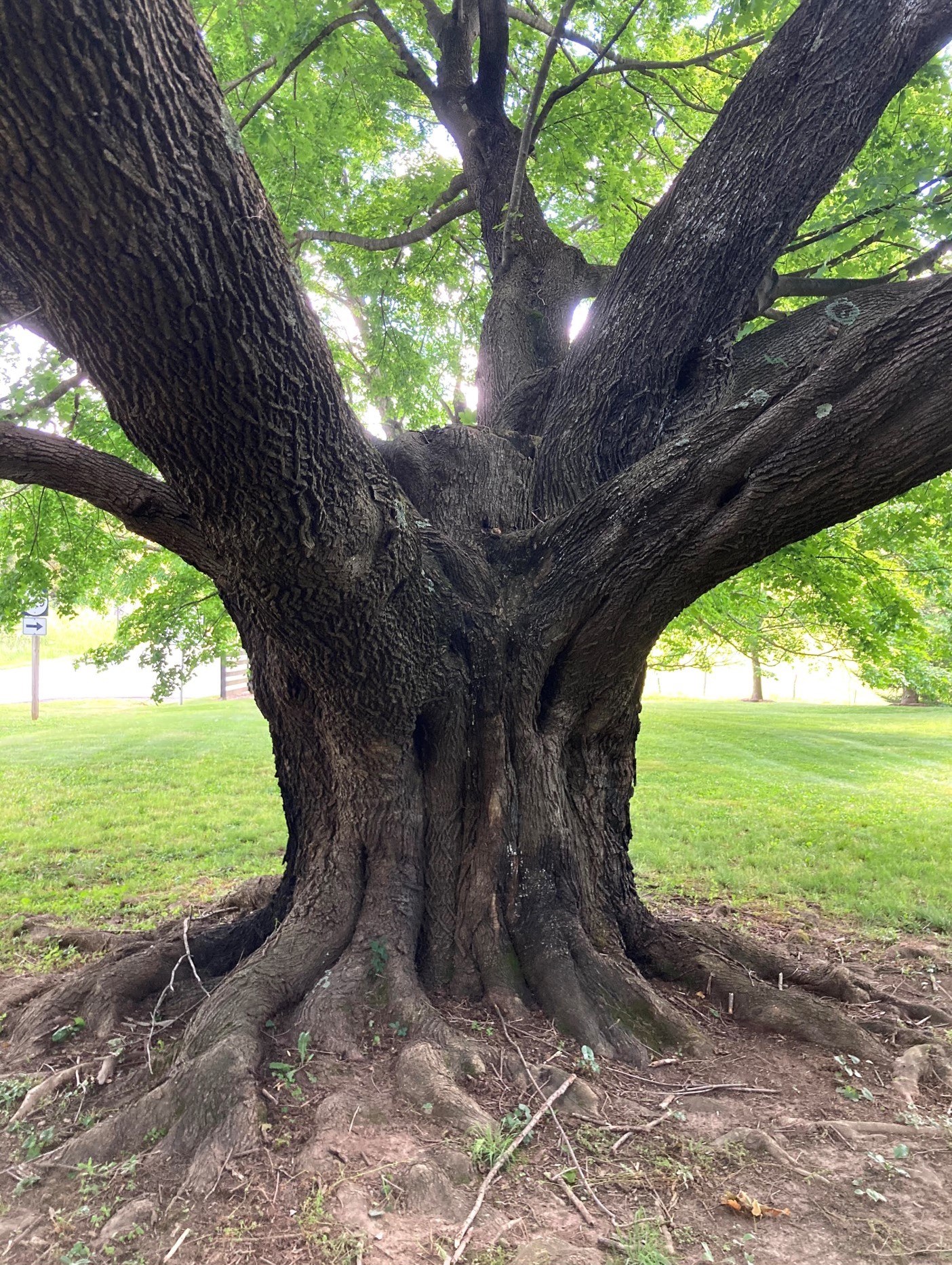 "This part of the Appalachians is strung with gaps, which are small passes in the mountain front. Those with streams flowing through them are called water gaps. Sinking Creek is a prehistoric tributary running west into one of the oldest river systems in the world ironically called the 'New'. The New River is the oldest river on the North American continent and second only to the Nile in Africa. It may have been on its present course for at least sixty-five million years and flows directly across the Appalachian Plateau, not around or from it, as most other streams of this region do. This river had to exist before the mountains formed as it has carved through more than ten-thousand feet (about two miles, 3.2km) of their strata."

https://www.ancient-origins.net/opinion-guest-authors/lost-tribe-clover-hollow-oldest-civilization-world-found-appalachian-mountains-021025