Among the first to seriously explore the history of Old Town was the first City Health Officer for Nashville (1867‐69) – a Georgia-born surgeon and extraordinary early scientist named Joseph Jones. In addition to his many notable accomplishments in medicine, his lifelong hobby was exploring mysterious remains of ancient civilizations.
Although only in Tennessee for two brief years, Jones explored numerous Mississippian mound sites, including Old Town. In his first publication on his explorations, he shared that "one of the most remarkable stone-grave burying grounds is found on the west fork of Big Harpeth, six and a half miles from Franklin, at a place called Old Town, the property of Mr. Thomas Brown."
His 1876 Smithsonian Institution publication entitled "Explorations of the aboriginal remains of Tennessee" was among the first to confidently assert that this ancient civilization was created by ancestors of Native Americans. Jones' publication of his discoveries in the nationally distributed Smithsonian series would ensure that the name Old Town became synonymous with the ancient peoples of Middle Tennessee.  Recognized as one of the pioneer scientists of the New South, his Tennessee investigations also presented some of the best scientific evidence to dispel an embarrassing myth about a race of ancient Tennessee pygmies that was circulating internationally during the nation's centennial celebration.  
The objects Jones collected from many Middle Tennessee sites, including Old Town, remained in his collection after his move to Louisiana and were sold by his heirs to the Heye Museum of the American Indian in New York after his death. Eventually, they became part of the collections of the Smithsonian Museum's National Museum of the American Indian (NMAI), where they remain today.  (Senator Frist served on the board of the NMAI from 2014 to )
Additional archaeological excavations of varying sophistication and documentation occurred in the subsequent years and decades at Old Town, which you can read about further on our Mississippian Temple Mounds page.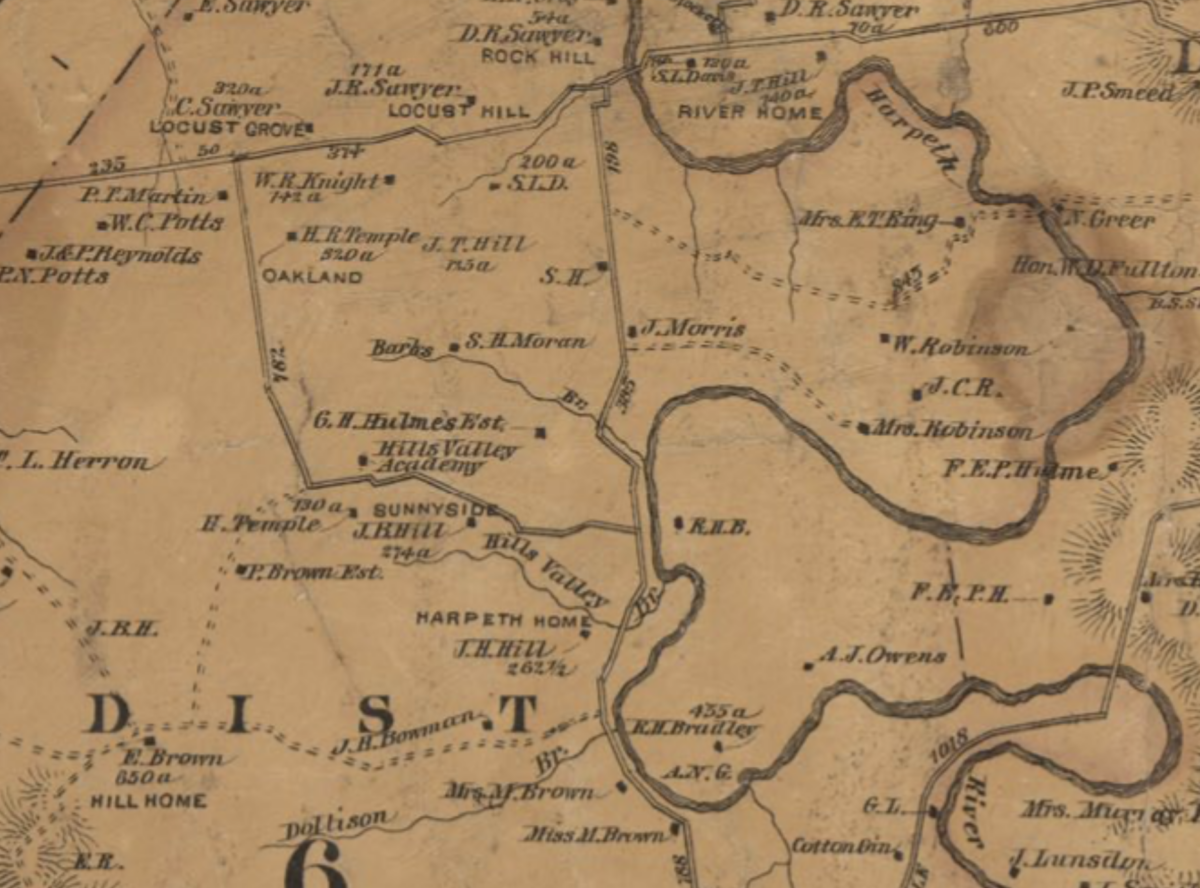 Cultural Context of the Post-Civil War Periods
Modernization and Diversification (1886–1929)
During this time, agriculture dominated the local economy, and many small farmers throughout the county replaced their frame or log houses with new homes in a one-story T-frame or central passage plan. The populations of mall crossroads villages and towns, such as College Grove, Nolensville, and Triune, grew. Construction of the Louisville and Nashville railroad fed the growth of Brentwood and Thompson's Station into shipping centers for the county's farmers. The county became known for its extensive dairy farms, while tobacco and cotton production declined (Thomason and Matter 1987).
After 1900, Franklin's population continued to grow with the expanding roads and railroad lines; however, the county's rural population decreased from 26,321 in 1890 to 23,409 in 1920 (Thomason and Matter 1987).
The Great Depression (1929–1941)
During the Great Depression in Williamson County, the Works Progress Administration (WPA) renovated Franklin's antebellum courthouse and constructed a new Art Deco–style county jail. In 1929, the Agricultural Exhibition of the Williamson County Colored Fair Association was held over a three-day period at Sunset Park, a private park for African Americans that opened in the 1910s. The dirt turnpikes were paved during the 1920s and 1930s and designated with state or county route numbers. The county's population increased to 25,200 in 1940 (Pewitt 1996:139; Thomason and Matter 1987; West 2001:29).
1. Geophysical Survey of Old Town Archaeological Site (40WM2) Williamson County, Tennessee by New South Associates, Inc., Sarah Lowry (Principal Investigator), September 20, 2019.