The Thomas Brown House at Old Town is a blend of today – its vibrancy is captured by our family, our animals, our friends – and of 19th Century Williamson County.
When you walk through the Greek Revival portico out front and through the front door at Old Town, you are welcomed by two pieces that depict much of Williamson County through the 1800's.
The first is the Isabella McPhail Cliffe Smith (1800-1891) portrait on the facing wall in the entry way. The portrait over the last hundred years passed from Sam and Josephine Cliffe Fleming, Jr. (whom Bill Frist knew as a boy), to author and historian Robert Hicks (close, beloved friend of Tracy and Bill), to Old Town. The other is this 1865 calling card case, a gift to Belle Cliffe Brownlow (1849-1878), Isabella's granddaughter, on her wedding day, October 3rd, 1865. This was generously gifted to Old Town by Joanne Fleming Hayes in memory of her ancestors.
These two items, this portrait and this case, capture much of the rich and fascinating history of Williamson County throughout the 19th Century. As you look at them, think back to those years and to the magic and the spirit they represent to us.
Isabella McPhail Cliffe Smith
From Joanne Fleming Hayes in email to Senator Bill Frist on Oct. 20, 2019
Growing up she hung over the piano on which I practiced for many years. We called her Aunt Belle. Tracing back, she was married to Joseph Stephen Cliffe (1799-1855), my great, great, great grandfather.
From Dallas and Fleming Wilt in email to Senator Bill Frist on Oct. 20, 2019
Isabella McPhail Cliffe Smith is Fleming Wilt's 4th great-grandmother. Sam Fleming's first wife (Fleming's grandmother and Joanne's mother, Ada Josephine Cliffe) passed away in 1980. Her father was Joseph Eugene Cliffe (1881 – 1959). His father was Charles Quintard Cliffe (1859 – 1884). His father was Daniel Bonaparte Cliffe (1823 – 1913). His mother was Isabella McPhail (1800 – 1891). Isabella's half brother, Dr. Daniel McPhail, is very famous in Franklin history. Here is a link to some interesting information about him and his office which is an historic building. https://visitfranklin.com/see-and-do/mcphail-cliffe-office-earlys-honey-stand
From Rick Warwick in emails to Senator Bill Frist on Oct. 21, 2019
Isabella's first husband, Joseph Stephen Cliffe, left her in Ohio and went to South America. She sent her son, Daniel, to Franklin, TN to be educated and live with her brother, Dr. Daniel McPhail. Her brother died in the Mexican War and was shipped back to Franklin in a whiskey barrel, so the story goes.
After her brother died, Isabella, thinking her husband had also died, married R.W. Smith. Her first husband returned to find her married and he then returned to London. After her second husband died, she moved to Franklin to be with her son, Daniel. She is buried next to her brother Dr. Daniel McPhail in the Old City Cemetery. You can't miss it, if you walked in the 4th Ave. gate, walk straight ahead under the big pecan tree. The farm was located east of Franklin about where McEwen exit is today. Her granddaughter, Isabelle Cliffe Brownlow and her husband James B. Brownlow lived with her. The farm was part of the old Buchanan farm. The sale resulted from a lawsuit back in 1865. It was sold at auction (May 13, 1866) by Sheriff F.M. Lavender to Isabella Smith for $40 an acre for a total of $7,680. The farm was bordered by Thomas Buchanan, J.W. Harvey and Mrs. Vaughn and Robert Buchanan. The deed (see below) was registered Dec.19, 1870. (with appreciation for research by Rick Warwick)
Mr. Sam was a superman. I enjoyed gleaning stories of Franklin from him. Unfortunately, I never met Josephine Cliffe Fleming.
From Robert Hicks in email to Senator Frist on April 26, 2020
I think that this helps explain why Sam Fleming always felt this painting was an important treasure. He highly admired Josephine's family. In many ways, he felt he had "married up" in Josephine's family. As you can see the portrait was hung in a place of honor. Tracy asked me recently if I knew who painted Isabella. As I had told you, I don't. Sam always thought it was painted by Washington Cooper, but he was wrong. But it points out how much he respected this childhood portrait of the grand dame of Josephine's family that her family highly admired.
This is why Sam wanted it to come back to Williamson County that I honored, and you and Tracy are now honoring. This was his wish.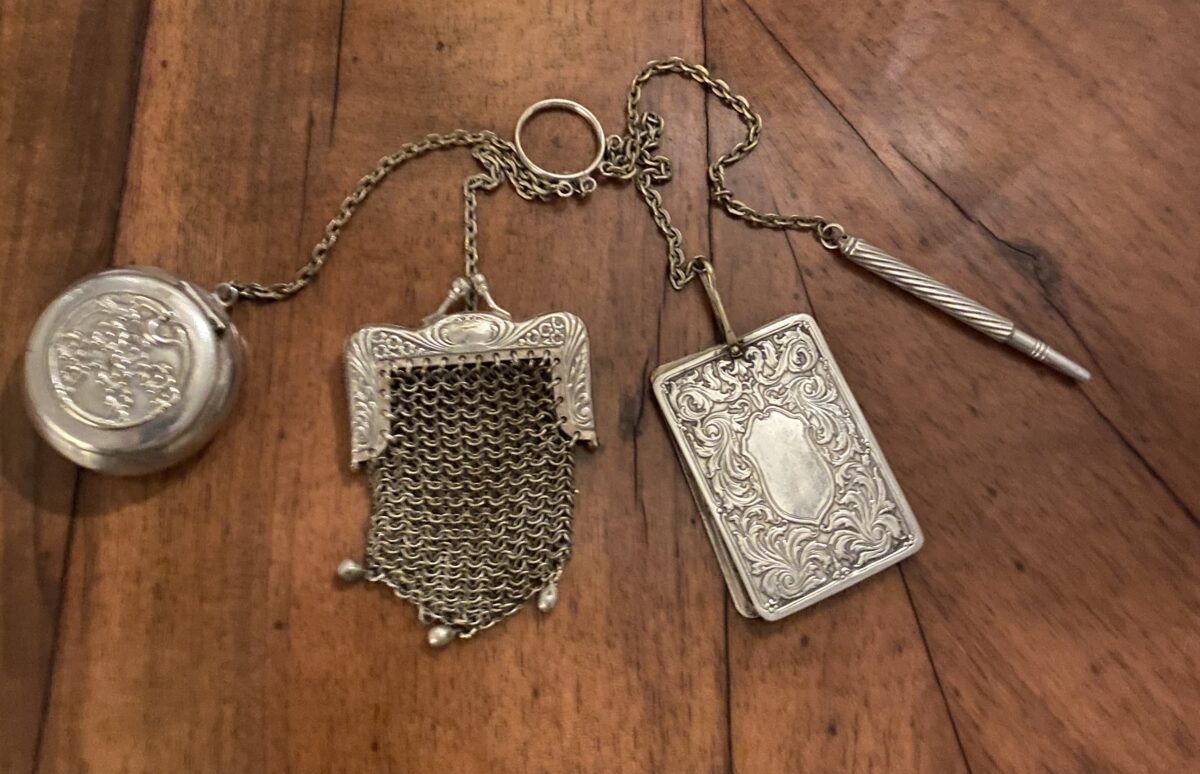 Dr. D.B. Cliffe
From Rick Warwick: In going through my Cliffe file this morning, I found a sketch I had transcribed from Dr. Cliffe's scrapbook. It was pasted into the scrapbook without naming the source. It gives a good overview of his interesting life. Also, I found a photo of Dr. Joseph Cliffe's portrait on ivory that Mr. Sam Fleming let me bring to Franklin and have copied. Mr. Fleming was very proud of it and showed it off to every visitor.
This is the deed to Isabella's farm located east of Franklin near the McEwen Interchange today. Isabella is also listed in the 1870 census in that location.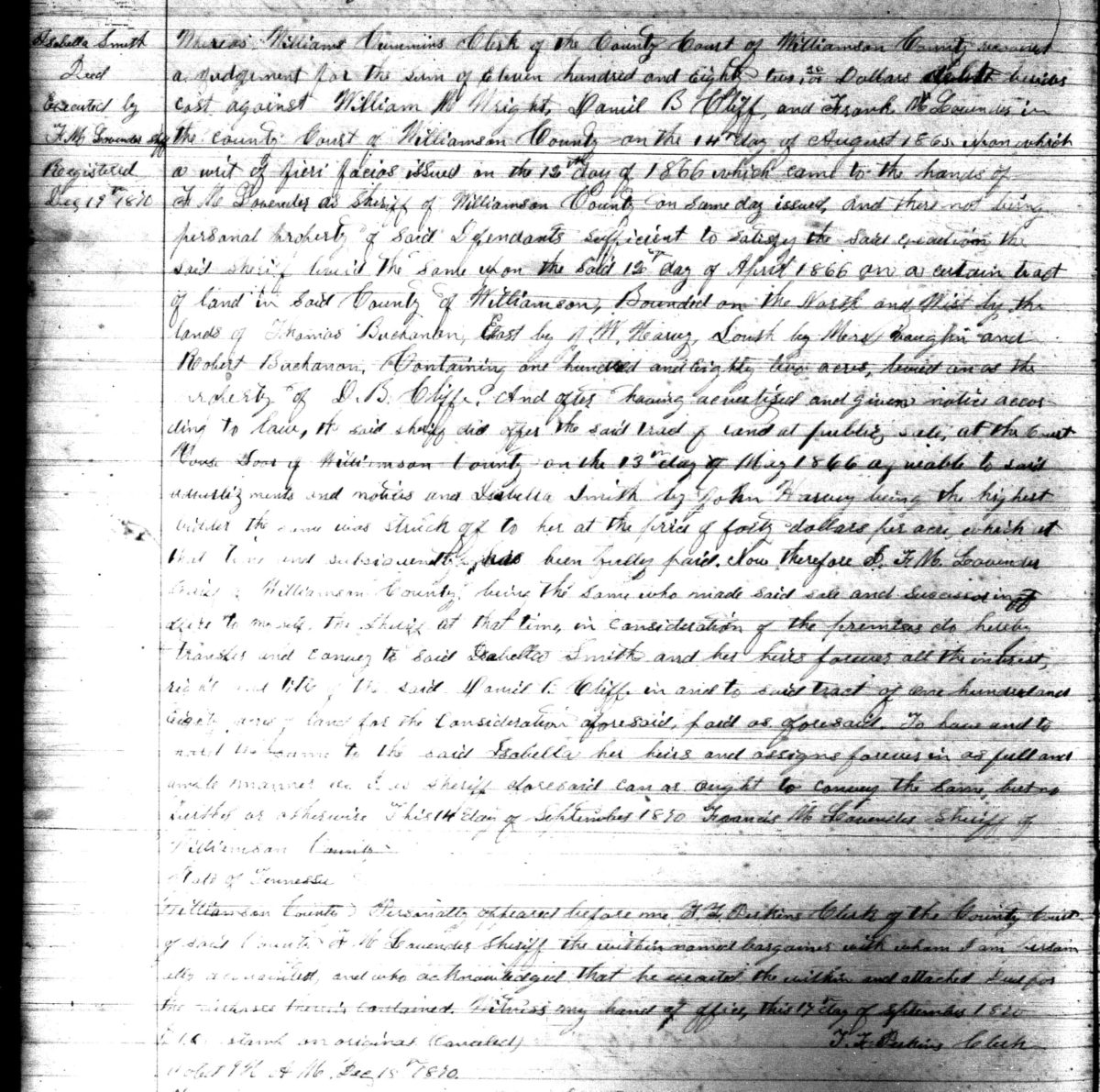 A letter from Isabella to her grandson, Mr. Charles Cliffe, written in April 1875. Letter transcription courtesy of Rick Warwick.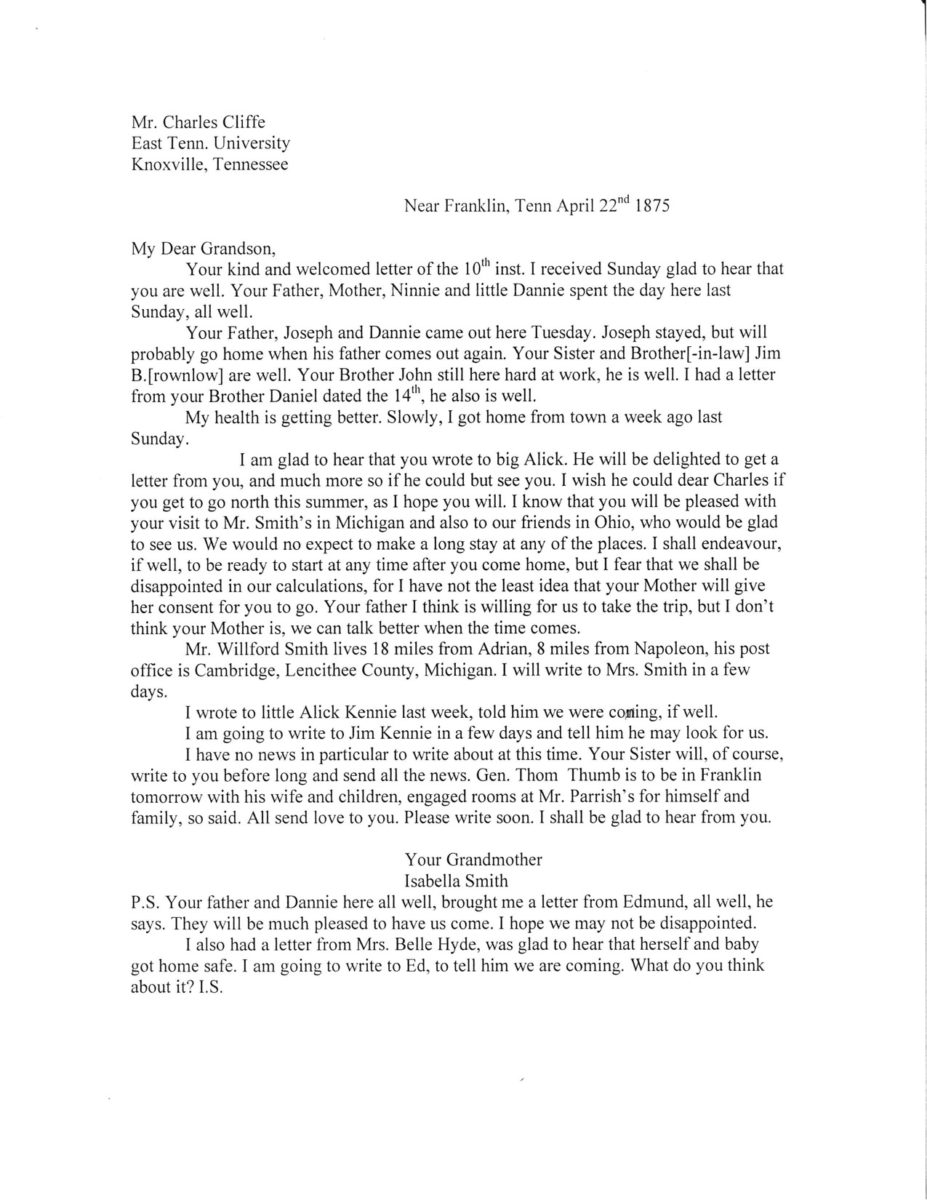 General James P. & Belle Cliffe Brownlow
James Brownlow was the son of Gov. W.B. Brownlow and an officer in the U.S. 5th Tennessee Inf. After the war, his father appointed him Adjutant General of Tennessee. While in Franklin during the occupation, he was wounded at Winstead Hill and Dr. Cliffe had him brought to his home and while there the young Belle and the handsome Union soldier fell in love. After the war, they married, and moved to her grandmother's farm east of Franklin about where the McEwen exit is on I-65. They had two children who died in infancy. Belle soon followed. James went to Knoxville to visit his sick mother and he died of TB while there. His body was returned to Franklin and his train was met by Franklin's leading ex-Confederates. They carried his body to Dr. Cliffe's home on 2nd Ave. South. From there the honor guard carried the body to Resthaven where he was buried with Belle and children in the Cliffe lot.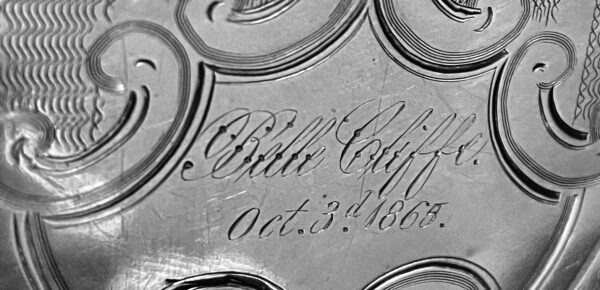 Article below was published in the 2008 Williamson County Historical Society Journal
From the Carter House Facebook Page
Gen. James P. Brownlow (1st Tennessee Cavalry, USA) was the son of Parson W.G. Brownlow, U.S. Military Governor of Tennessee. He was wounded in a skirmish south of Franklin, near the Harrison House, and was taken to the home of Dr. D.B. Cliffe for treatment. During his stay at the Cliffe home, he fell in love with the doctor's daughter, Belle Cliffe. They were married by his father, Governor Brownlow, on October 3, 1865. Two children were born to the couple, a boy and a girl, both of whom died young.Sadly, in May 1878, Belle also died. The Nashville Daily American related, "When death removes those who have fulfilled their time, we are grieved but not surprised, but when it strikes the young and idolized, as it has here last week, we bow with submission though with broken hearts. Such a shock as we received in the death of Mrs. Belle Brownlow has not often fallen on Franklin, in perfect health at 5 o'clock Tuesday, she was stricken with the shaft at 6 o'clock, and in forty-eight hours went to join her children. She was the idol of her parents and the pride of her husband. Like a fragrant flower, she shed affection all around her."
Apparently, Gen. Brownlow had little desire to live without his dearly loved ones. Less than a year later, he was gone as well. On May 3, 1879, The Daily American reported: "Gen. Jas. P. Brownlow was buried in the new cemetery last Tuesday by the side of his young wife and two children, who had preceded him to the grave only a few short years. Gen. B. was very popular here with all who knew him, and especially was he liked by those who were opposed to him in arms during the civil war. On Monday there was a meeting of citizens and ex-Confederate soldiers, and resolutions were adopted expressive of their admiration and esteem for him. As the resolutions state, 'he was thoroughly imbued with the courage and chivalry of a Tennessean. He lived long enough with us after the war to change our esteem and respect into affection.' His family and friends have the sincere sympathy of our people in their bereavement. Peace to his ashes."
Mrs. Sam Josephine Cliffe Fleming, Jr. sitting with her dog in front of the fireplace with the painting of Isabella McPhail Cliffe Smith above the mantle. This is a newspaper clipping from circa 1931.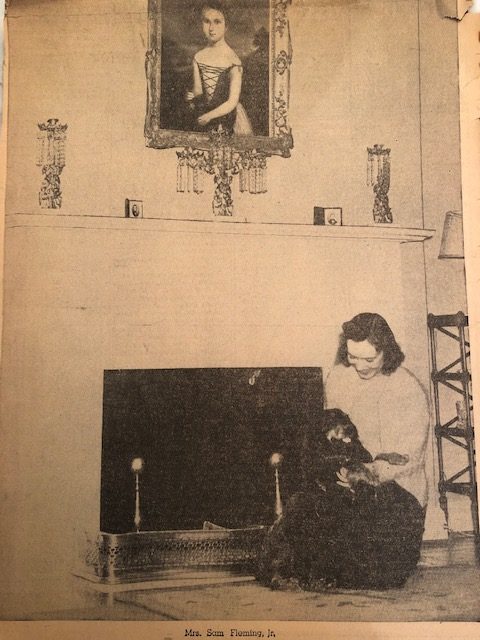 Portrait of Josephine Cliffe Fleming (1909-1980)